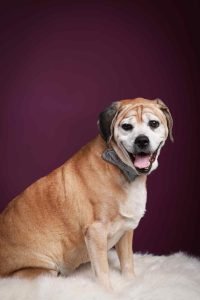 Ernie is an 11 year-old senior puggle who came to us from Missouri. He had a mom who adored him, but unfortunately she passed away and her family couldn't keep him. After spending some time with his moms' neighbors in Missouri, Ernie took the long trip up to Minnesota. 
When Ernie arrived in Minnesota, he was severely overweight and could barely make it up the three flights of stairs at our apartment. He settled right in and was put on a diet, although he didn't love the diet, he did love playing and got lots more energy the more weight he lost. 
The Ernie man gained the entire rescue as his fan club through his shenanigans. He has the goofiest, most lovable personality and just loves life! He loved to sniff out treats he shouldn't eat and even learned how to open the treat cabinet on his own. After we moved to a new apartment, Ernie discovered the neighbors one night while they were BBQing and decided he wanted to share their chicken wings. After that the silly old man had a fan club in the neighborhood too! 
After a couple months with us, Ernie found the most perfect family! He was one of the hardest dogs to give up because he fit in perfectly on our island of misfit toys, but after meeting his moms, I knew it was meant to be. His moms adopted Ernie in honor of a previous senior puggle they had lost. They are passionate about giving senior dogs the love they deserve and were dedicated to helping Ernie lose weight. Since being adopted, Ernie has lost even weight. He lives on 11 acres in Wisconsin with 3 doggy siblings and a goat brother, Sir Mason. He loves his goat brother and walks along the property with him. Ernie man has taken vacation to their cabin and even to Niagara Falls! Ernie's shenanigans still continue and he can't wait for the holiday season when treats will be far easier to steal from the counter! With Healing Hearts Rescue in Ernie's corner, he was given a second chance at love and to live out his senior years with the family of his dreams!