Maybe eyes are over-rated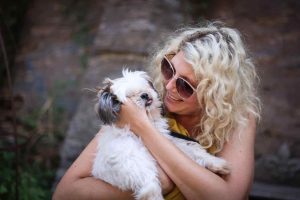 Fern and Greta May. What a pair. Fern came into rescue from a breeder and immediately we rushed her to the vet. Her eyes were infected and swollen and she was in excruciating pain. The call came quickly from the vet. Her glaucoma was severe in both eyes. The globes were ready to rupture. Our amazing vet partner told us both eyes needed to come out asap. "I'll stay late and do the surgery tonight" she told us. Incredible. An angel to save our angel. So both eyes came out…that night!
Three days later Greta May was brought in to the same vet after crying in pain and walking into things over the weekend. The call came in from the vet. "I can't believe it", she said. "It's almost the exact same situation as Fern." What?! "I'm willing to stay late again", she said. How could this be so horrible, and so wonderful at the same time?! So both eyes came out…that night.  Four eyes, three days apart.
Both girls have recovered and are living their best lives in their forever homes. No more pain. Just lots and lots of love.
Eyes are no good when they can't see. Eyes are so painful when they are sick. Eyes are very expensive to heal and/or remove. Our girls are joyful and pain free.  Thank you for that. Thank you for making it possible for us to give this amazing duo the lives they deserve.