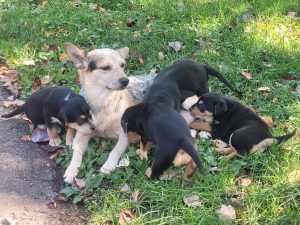 We got the call that a beautiful Blue Heeler was pregnant and needed a safe place to bring her puppies into the world. One of Healing Hearts' incredible whelping fosters stepped up to take her in, and plans were made for the transport. She was coming from 10 hours away. Every day, we checked in to see if the pups were still on board (if mom had delivered the puppies yet). Still on board.
When transport day came, we sent a message to her, "Just 10 more hours and you'll be safe at home. Hang on, Mama." Often, mama dogs are able to hold on until they know they're safe. On many occasions, we've brought mamas into rescue and had them give birth as soon as they arrive. Unfortunately, Mama True couldn't wait. Four hours from her arrival time, we got the call that she was having the puppies in the transport van. The first one was born and the second on the way. We called the foster mama and let her know. Her response was as expected, "Okay, we'll bring everything we need with us to the transport." When the transport arrived at the scheduled pick up location, five puppies had been delivered, but only four were alive. Nothing had happened in a while. Pups and mama were moved into the whelping pool in the back of the foster's vehicle.
While Foster Dad drove the 40 minutes home, Foster Mama sat in the back and assessed the situation. Mama True didn't seem finished, but nothing was happening. Turns out, there was a puppy stuck in her birth canal. Once home and settled, Foster Mama was able to pull the stuck puppy from the canal. Sadly, this little one didn't make it either. The afterbirth was messy and scary, and things were touch and go for a bit. But True and her four baby blues, Cyan, Cobalt, Indigo and Royal were safe.
We are so grateful to the people that got Mama True safely to us, to her incredible foster mama who kept her and her babies alive, and to all of you for supporting us, making it possible for us to say "yes" to mamas like True.