The survival of little Simon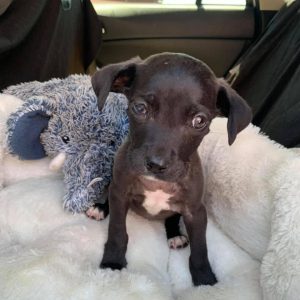 Simon is a very special boy. His mom and his aunt both had litters of puppies at the same time. Twenty puppies in all! The puppies were living in wretched conditions outside with no shelter and no supervision. Our rescue partner in south eastern Missouri told us that one of the moms would come to her house twice a day to be fed, because she was getting little food at home. Before we could get the puppies and mommas safe, eight puppies disappeared, presumed to be picked off by predators or died from coccidia. 
Of the 12 remaining, all had severe coccidia and baby boy Simon was the worst. His little ribs and haunches showed through his paper thin skin. He was dehydrated, weak, and had an eye infection. A wonderful volunteer opened her home for triage of all the puppies, and they were treated for coccidia and worms and monitored closely. And we were so worried that Simon would lose his eye. Luckily, the vets told us he could keep it! While his siblings all got adopted, Simon still did not look as healthy as he should. His coat took a long time to get a luster, and his fosters watched him grow up to be an adolescent. His personality began to shine through, and he was a calm, stoic, sweet and lovable puppy. His coat looked better. He won over the hearts of a great adopter and is living his happily ever after. Without Healing Hearts intervention, Simon and many more of his siblings would have surely perished. Healing Hearts also found great homes for both mommas.