Zea and her 5 surprise puppies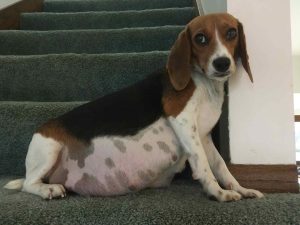 Zea showed up as a foster with a little mange on her head and a little surprise in store for us. For a dog her age (perhaps about 7-9 months old, she still had retained baby teeth), her belly should be very flat, but it wasn't. Sure enough, a visit to the vet confirmed that we were expecting puppies. As foster parents who were new to whelping, we prepared, prepared, and prepared some more. We were so excited when she finally went into labor on Election Day 2020. At 8am, she was in early labor, but by 5:30pm we still had no puppies. One was stuck in the birth canal, Zea was in immense pain and yelped out to let us know. The puppies were just too big for her little body. Off to The U of M she went, and the staff met her in the parking lot, muzzled her, and pulled Mr. Carson out. Carson had to be revived, but he made it! The heartbeats for the other puppies were slowing and so a C-section was the only option. Within about an hour, four more puppies were born, and we could pick up our new little family. Zea battled mastitis for several weeks, but kept nursing and the puppies kept growing and growing. By the week between Christmas and New Year's, all found wonderful homes. Zea stayed with us as her forever home! She is a bright light in our days, very fun, and a great companion to all the foster dogs who come through our home. She loves to mommy the younger ones. We are so thankful to Healing Hearts for saving this little family, as she and the pups would have died during the birth. Instead, there are six very happy families and six very happy pups! 
The adoption fees for this litter did not come close to covering the emergency surgery and care for Zea's mastitis. This is where donations save the day! Thank you for your support!